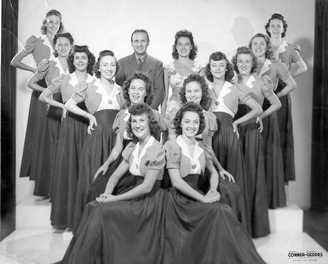 Freddie Shaffer  was born and raised in Frankfort. Shaffer performed with the Fred Waring and Paul Whiteman orchestras before returning to Clinton County to teach music.
In 1938, Shaffer established an all-girl band, starting with about 15 talented girls. The Big Band era was in full swing, and the girls were selected for their musical and singing abilities.
In 1941, the Freddie Shaffer Band provided music for the first commercial radio program broadcast from Frankfort with a Kokomo Radio Station WKMO. (It is notable that Mayor William P. Lockwood, who spoke at the dedication, remarked that he felt sick shortly after completing his speech, collapsed and died.)
Performing for local lodges and clubs on weekends, the band soon was hired to go to colleges, universities and large cities. Their theme song was 
"Moonglow."
In 1942, the band was offered a job for a week to play at Geneva On The Lake, Ohio. The girls were so well received, they stayed the summer. The pay was union scale — $35.00 a week and all expenses paid, including an evening gown.
The band became known as Freddie Shaffer and the "Victory Sweethearts" and was booked for the USO, touring the eastern part of the U.S. and military bases during the war years.
After the war, the girls slowly began to leave the band for marriage and families. Their replacements were not always up to Freddie's standards, and bookings for the band began to decline. Besides that, big bands, interest in swing music, and girl performers were out. The men were home!
Shaffer disbanded his remaining band members in 1953 and returned to Frankfort. He died in 1956 at the age of 53.
Freddie Shaffer and The All Girl Orchestra
Recordings from WWII to 19501950
I Can't Begin To Tell You
Sunny Side of the Street/Oklahoma Tire and Supply Store Promo