Services
Artifacts Preservation
Conservation, preservation and restoration products are available through Clinton County Historical Society.
Advice on preserving photographs, manuscripts, documents, and other artifacts.
If you have old photos or documents of general historical interest, we will be happy to scan them for digital archiving so you can keep your originals.
Assistance with Interviewing Sources and Recording Their Oral Histories and Memoirs
Military veterans
Teachers
Police officers
Fire Fighters
Farmers
Clergy
Musicians
Railroaders, and many more
Materials
Museum
Resource materials are always available for students' research for school projects. We have books, photos, and artifacts at the museum and are working to make more material available online as well.
Online
We are working on providing more material on our website. Check out our Image Archive for photos, maps, and other historical documents, our Master Index for searching names in the Clinton County histories and atlases, and our History pages for more information.
For Clinton County resources elsewhere online, please check out our Online Resources Guide.
Military Records
For military records, see this page from the National Archives.
Images of America: Frankfort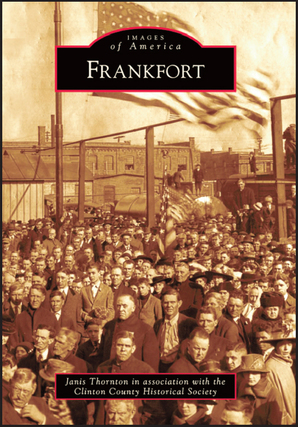 A foreword by Frankfort's Mayor Chris McBarnes opens the exploration of the city's history told through more than 200 photographs assembled by Janis Thornton, former writer-editor for the Frankfort Times, in association with Nancy Hart, director of the Clinton County Historical Society. Copies of "Images of America: Frankfort" are available for purchase at the Clinton County Historical Society Museum, open 10 a.m. to 2 p.m. Tuesday-Friday (except holidays), and other times by appointment.
Four months after the Indiana General Assembly established Clinton County, long-time resident John Pence donated 60 acres of his centrally located farmland upon which the county seat would be built. Thanks to Pence, the city of Frankfort, named in honor of his ancestral German home, was born May 9, 1830. Dense forests, cold winters and wild animals challenged those who populated Frankfort in its earliest days. Yet, as a close-knit community, tightly bound by mutual dependence and pride, they grew a beautiful city, abundant in businesses, churches, schools and culture. Railroads opened new opportunities for growth, and for the next 100 years, Frankfort was a major train town, served by four railroad companies. The spirit of the early settlers still prevails, revealed abundantly in their sons and daughters, who have included war heroes, well-known entertainers, athletes, entrepreneurs, doctors, and more. The photographs in this book tell the story of a determined Hoosier city and those who called it home.
Purchase In Person
Copies of "Images of America: Frankfort" are available for $21.99 and may be purchased at the Clinton County Historical Society Museum (301 E. Clinton Street, Frankfort) from 11 a.m. to 2 p.m., Tuesday through Friday. To arrange to stop by at another time, please call 765-659-2030.
Order online
An additional $3.01 will be added to the cost to cover postage and handling (for a total of $25). Although we will attempt to mail orders by the next day, please allow 7-10 days for delivery. Thank you!