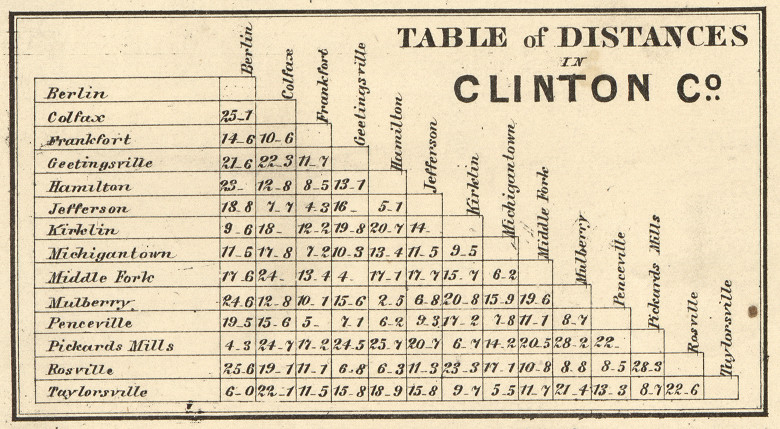 Over time, we hope to build up brief histories of all the towns in Clinton County, to whatever extent that proves possible. This is something we are just beginning and will take some time, so don't be surprised if there isn't much to them for a while. We are happy to accept tips, input, photos, or any other help from residents of these towns. You can comment on the individual pages or email us. Please share your knowledge!
Names on the lists below will be converted to links as pages are developed.
Cities and Towns
Colfax
Frankfort
Kirklin
Michigantown
Mulberry
Rossville
Unincorporated Towns
Antioch
Avery
Beard
Boyleston
Cyclone
Edna Mills
Fickle
Forest
Geetingsville
Hamilton
Hillisburg
Jefferson
Kilmore
Manson
Middlefork
Moran
Pickard
Reagan
Scircleville
Sedalia
Extinct Towns
Berlin
Martinsville
Prairieville
Atlas Details Through The Years
It is interesting to look at old state atlases and see what towns were deemed important enough to include in the small area dedicated to Clinton County. Here is a selection of these spanning over almost a century.