I am very excited to release a project I have been working on for months: the digitization and mapping of 118 illustrations of Clinton County homes and businesses from the 1878 atlas of Clinton County. If you have never seen this atlas, the illustrations are amazingly detailed and accurately portray many farms and towns as they were in 1878. You may even find (and recognize) the place you live in today.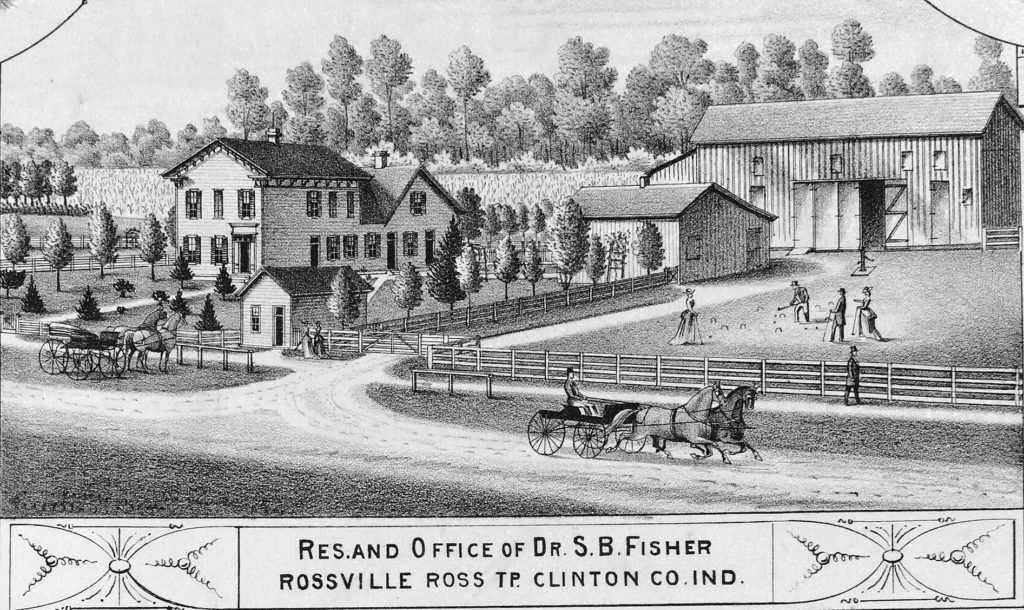 By using the plat maps in the atlas in conjunction with Google Earth and Bureau of Land Management data, I have mapped all but four of the illustrations to the property they represent. Some of them are fascinating to compare to modern satellite imagery and see what has remained and what has changed. For instance, look at how much has stayed the same for 140 years on this property: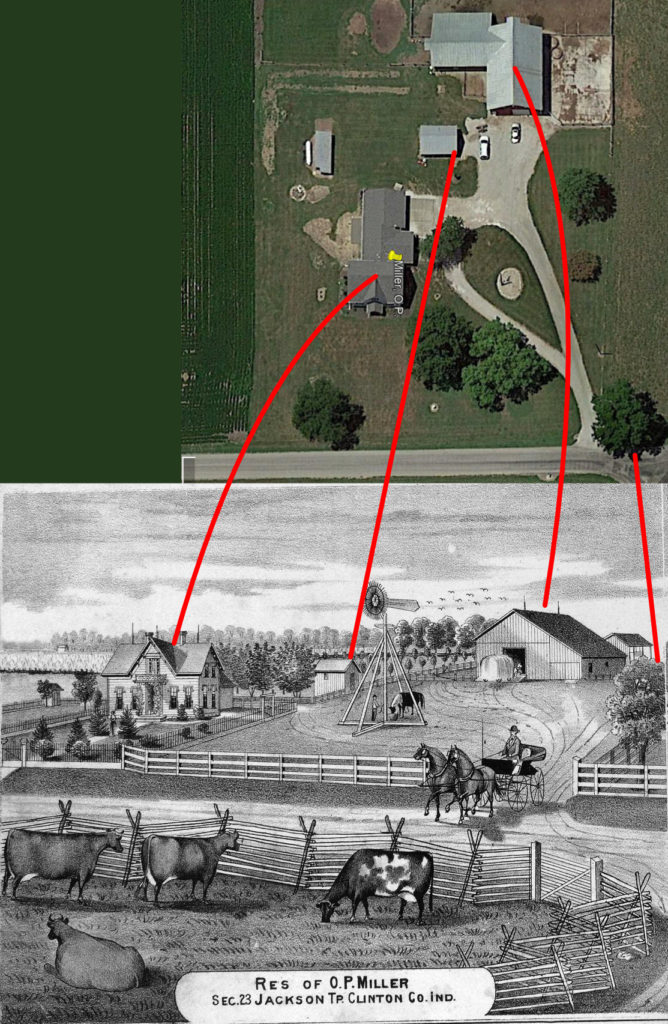 Obviously these structures have been altered and possibly rebuilt over time, and I don't know enough about trees to say whether that's the same tree with 140 years of growth or another in its place, but it shows how much effort and detail went into these illustrations and, more importantly, just how much we unconsciously retain from our past.
You can use the Google map embedded below to see the illustrations in your area or click here to view it full screen. Clicking an arrow on the map will pop up a thumbnail of that illustration. Click the thumbnail to view it entirely. (This works better in full screen. There, you can also view–and search–a list of names on the sidebar.)
Alternatively, you can look through them in the gallery and sortable list below. The four illustrations I have not mapped yet are:
John Pence's residence in Frankfort
E.H. Staley's residence in Frankfort
The Flour and Feed Mill of Hodge & Hinkle in Kirklin
John Hodge's residence in Kirklin
This is because the town maps in the atlas are not as detailed with property owners. We should be able to locate them once social distancing is over and libraries, etc., are open.
The quality on some of the images is not the best, due to limitations in equipment we have access to for digitizing such a large document. Hopefully it can be given the professional treatment it deserves at some point in the future.
Please note that there are 5 pages to the gallery below. The images may be slow in loading, as some are rather large.
Here they are listed by name and location:
| Name | Location |
| --- | --- |
| Barner, J.H. & Co.; Comley & Gaddis | Center Township – Frankfort |
| Young, Dr. M.V. Cedar Grove Cottage | Owen Township – Geetingsville |
| Coulter House | Center Township – Frankfort |
| County Asylum For The Poor | Center Township |
| Court House | Center Township – Frankfort |
| Crescent Office | Center Township – Frankfort – North side public square |
| Morrison, O.A.J. Dealer in Drugs, Groceries & Notions; Property of Floyd, F.R. | Warren Township – Middle Fork |
| McGilvery, James Residence and Drug Store | Ross Township – Rossville |
| Farmers Bank, etc. | Center Township – Frankfort |
| First National Bank | Center Township – Frankfort |
| Hodge & Hinkle Flour & Feed Mill | Kirklin Township – Kirklin |
| Fisher, Dr. S.B. Residence and Office | Ross Township – Rossville |
| Gard, Oliver M.D. Residence and Office | Warren Township – Middle Fork |
| Siegfried, D.K. Pennsylvania Hotel | Ross Township – Rossville |
| Ghere, Aaron Property | Center Township – Sec. 24 |
| Maish, David Property | Jackson Township |
| Maish, Henry Property | Center Township – Sec. 01 |
| Maish, Mathias Property | Center Township – Sec. 18 |
| Rice, Daniel Property | Owen Township – Sec. 12 |
| Staley, E.H. Farm Property | Owen Township – Sec. 29 |
| Wilhelm, Christian Property | Warren Township – Sec. 19 |
| Public School Building | Center Township – Frankfort |
| Aderson, Elijah | Perry Township – Sec. 24 |
| Anderson, James | Perry Township – Sec. 23 |
| Ashpaw, James R. | Johnson Township – Sec. 15 |
| Bayers, John B. | Center Township – Sec. 29 |
| Bailor, Jacob | Ross Township – Sec. 07 |
| Baker, Abner | Washington Township – Jefferson |
| Barner, D.P. | Center Township – Frankfort |
| Beisel, Solomon K. | Ross Township – Sec. 18 |
| Bell, James | Center Township – Sec. 20 |
| Bennett, Cyrus L. | Madison Township – Sec. 22 |
| Blinn, Jesse C. | Center Township – Sec. 17 |
| Bogh, Jacob E. | Ross Township – Sec. 31 |
| Brown, Frank M. | Ross Township – Sec. 25 |
| Buntin, Elihu home built 1831 | Jackson Township |
| Caldwell, Hon. Frank D. | Center Township – Sec. 23 |
| Carter, G.W. | Michigan Township |
| Catterlin, N.T. | Center Township – Frankfort |
| Clark, A.F. | Ross Township – Sec. 06 |
| Clark, F.M. | Jackson Township – Sec. 31 |
| Clendening, Arthur J. | Madison Township |
| Combs, Wm. B. | Madison Township – Sec. 21 |
| Crouse, Hiram B. | Ross Township – Sec. 12 |
| Davis, Joel | Perry Township – Sec. 32 |
| Earhart, S.S. formerly of the late Earhart, George | Madison Township – Sec. 21 |
| Earhart, Susanah | Madison Township – Mulberry |
| Fickle, Isaac | Washington Township – Sec. 06 |
| Fickle, James | Washington Township – Sec. 09 and 17 |
| Fickle, Wim. | Madison Township – Sec. 30 |
| Fisher, Samuel P. | Center Township – Frankfort – Cor. Main & South Sts. |
| Ghere, Aaron | Michigan Township – Sec. 19 |
| Hamilton, Francis J. | Ross Township – Sec. 18 |
| Harryman, Mrs. Elizabeth | Jackson Township |
| Harshman, Moses | Washington Township – Jefferson |
| Harshman, Taylor | Washington Township – Sec. 11 and 14 |
| Hodge, John | Kirklin Township – Kirklin |
| Holdridge, Thomas J. | Center Township – Frankfort – Washington St. |
| Hollenbeck, Wm. | Perry Township – Sec. 30 |
| Jacoby, Jonathan | Ross Township – Sec. 11 |
| Jacoby, Moses | Ross Township – Sec. 09 |
| Kesler, Joseph residence; property of Maish, David | Center Township |
| Kyger, Ira | Michigan Township – Sec. 30 |
| Kyger, James | Madison Township – Sec. 33 |
| Kyger, Samuel | Center Township – Sec. 25 |
| Lecklitner, Daniel Sen. | Madison Township – Sec. 18 |
| Lewis, Josiah | Ross Township – Sec. 18 |
| Mabbitt, W.L. (insert) | Owen Township – Sec. 24 |
| Mabbitt, W.L. | Owen Township – Sec. 24 |
| Maish, David | Center Township – Sec. 13 |
| Maish, David | Center Township – Sec. 22 |
| Maish, Frederick Jr. | Center Township – Sec. 22 |
| Maish, Frederick | Center Township – Frankfort – Cor. Gentry & Jefferson Sts. |
| Maish, George | Center Township – Sec. 01 |
| Maish, Henry | Center Township – Sec. 01 |
| Maish, Mathias | Center Township – Sec. 18 |
| Maish, Willard | Jackson Township |
| Major, Josiah | Madison Township – Sec. 29 |
| Martz, John | Madison Township – Sec. 22 |
| Martz, Solomon | Madison Township – Sec. 16 |
| Mattix, Robert | Washington Township – Sec. 19 |
| McClamrock, Robert | Kirklin Township – Sec. 11 |
| McDavis, James | Madison Township – Sec. 23 |
| McKinney, W.V. Sen. | Sugar Creek Township – Sec. 33 |
| McKinsey, U.C. | Jackson Township – Sec. 25 |
| McNutt, James | Washington Township – Sec. 07 |
| Merrick, John | Warren Township – Sec. 31 |
| Messler, James W. | Michigan Township |
| Miller, Mrs. Eliza | Jackson Township – Sec. 23 |
| Miller, O.P. | Jackson Township – Sec. 23 |
| Miller, Thomas L. | Madison Township – Sec. 32 |
| Paige, Hon. A.E. | Center Township – Frankfort – Cor. Columbia & Jefferson Sts. |
| Pence, John | Center Township – Frankfort |
| Piner, Thomas C. | Michigan Township – Sec. 25 |
| Porter, W.G. | Ross Township – Sec. 24 |
| Pruitt, John | Johnson Township – Sec. 28 |
| Rex, John | Madison Township – Sec. 16 |
| Rex, Joseph | Madison Township – Sec. 15 |
| Rice, Daniel | Michigan Township – Sec. 18 |
| Rothenberger, Ephraim | Madison Township – Sec. 22 |
| Ruch, George | Washington Township – Sec. 30 |
| Ruch, Joseph J. | Washington Township – Sec. 19 and 30 |
| Silverthorn, William | Ross Township – Sec. 24 |
| Sims, Page | Warren Township – Sec. 31 |
| Smith, George | Ross Township – Near Rossville |
| Smith, H.L. | Ross Township – Near Rossville |
| Snyder, John | Washington Township – Sec. 02 |
| Staley, E.H. | Center Township – Frankfort |
| Stuart, John W. | Michigan Township – Sec. 26 |
| Thompson, David | Washington Township – Sec. 07 |
| Thompson, Wm. R. | Washington Township – Sec. 06 |
| Toops, Taylor | Center Township – Sec. 17 |
| Widner, Daniel | Ross Township – Sec. 32 |
| Wilhelm, Christian | Warren Township – Sec. 25 |
| Zaring, Eli | Center Township – Sec. 33 |
| Sheriff's Residence and Jail | Center Township – Frankfort |
| Weidner, Joseph S. Store & Residence | Madison Township – Mulberry |
| Earhart, A.J. Residence & Warehouse | Madison Township – Mulberry |