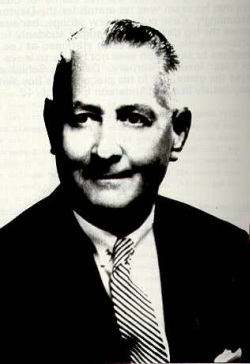 Everett Case was born in Anderson, Ind., on June 21, 1900. Case began coaching basketball as early as 1915, when he coached a Methodist church team. He graduated in 1919 from Anderson High School, and according to the yearbook, he had decided his future occupation would be a basketball coach. Case went to the University of Illinois to learn from Ralph R. Jones.
The Frankfort school board selected 22-year-old Everett Case from among 18 applicants for its $1,800 a year basketball and track coach. It was an excellent choice, as under Case's direction, Frankfort High School won Indiana state championships in 1925,1929,1936 and 1939.
Case resigned his post in Frankfort in 1941, after he enlisted in the Navy. He left materials on his desk at Frankfort High School and didn't retrieve them until 1946. He was commissioned a senior-grade lieutenant and reported to Annapolis for a four-week training course. He then was off to Chicago for five weeks training and then to Naval pre-flight school at St. Mary's College in California. He served as assistant athletic director and director of basketball. He was also athletic director at the Alameda Naval Air Station.
In 1943, DePauw University at Greencastle, Indiana, began a naval flight preparatory school. An abbreviated basketball schedule was followed. By then, Case was a lieutenant commander and athletic director of the program
Upon leaving the Navy in 1946, Case took over at North Carolina State University. Before the war, Hoosiers had flocked to California to play basketball. After the war, Case brought Hoosiers and Hoosier-style basketball to the South.
In 1964, Case was diagnosed with multiple melanoma. His mother had died of cancer, and his father's suicide was quite possibly due to the same disease. Case died April 30, 1966.
Frankfort High School's Case Arena was named for Everett Case.